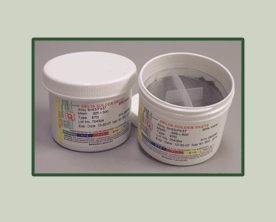 Solder Paste
Delta Solder Paste is a unique blend of low oxide, high purity solder powder with various paste flux formulations. Whether your surface mount assemblies require No-Clean, RMA (Rosin Mildly Activated), or Water-Soluble type solder paste, Qualitek can provide you with the right solder paste to achieve high productivity and reduce production cost.
Paste Packaging Options
Jar 3-4 oz. 250-500 grams
Semco & Pyle Cartridge., 6 oz., cartridge 700 grams & 12 oz., 1400 gms.
Syringe 10cc., Syringe 35gms. & 30cc., syringe 100 grams
DEK ProFlow 8 oz., Cassette 800 gms.