News & Events For U.S.A.

New! DSP 825 HF Prints Bricks
A Temperature Stable Solder Paste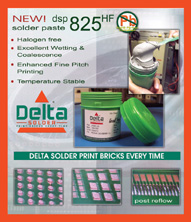 *Halogen Free *Excellent Wetting & Coalescence * Enhanced Fine Pitch Printing * TEMPERATURE STABLE
| Tech. Data | SDS |
| Request Sample |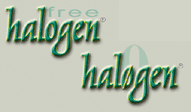 Halogen Free or Halogen 0 The Difference
| Click to Details |
AVOID COSTLY SOLDER POT CONTAMINATION!
& GET A FREE COLLECTION LADLE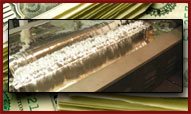 Click Here To Details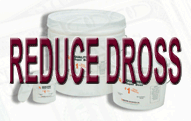 Solder Dross Recovery
Super Deox will help reduce your solder costs by reducing dross and recovering up to 80% of your solder. Click the above button to learn more about Super Deox and start saving today.
Super Deox cleans dross impurities without reliability issues. Test results prove wave pots treated with Super Deox left all coupons at more than 100 mega ohms which meets the requirements of IPC-TM-650 number 2.6.3.3 section 5.5.1
TESTIMONIAL: Super Deox helps in dross reduction cost saving project implementation!
SIR test on IPC-B-24 coupons after the wave pot is treated with Super Deox concludes all coupons #1-23 reading at 96 hours and 168 hours were more than 100 mega ohms which meets the requirements of IPC-TM-650 number 2.6.3.3 section 5.5.1. After test, optical inspection examined under stereomicroscope (15x) results shown no abnormalities of any test coupons. All coupons passed the requirements of IPC-TM-650 number 2.6.3.3 section 5.5.2. after treated with Super Deox. Such positive results in reducing solder dross certify Super Deox and Super Deox H1 to be used at all facility sites for solder pots RoHS 6/6 and leaded as well.
Dept. QA, Dept. Engineering, Dept. Adv. Engineering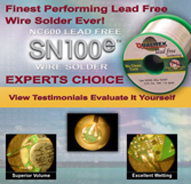 TESTIMONIAL: Finest Performing Lead Free Wire Solder Ever! Sn100e
Qualitek NC600-Sn100e lead free, silver free solder wire exhibited better wetting, better wetting contact angles, superior flow, visual appearance and performance characteristics to that of a quality no clean 63/37 tin lead. Sn100e is the finest performing lead free product that I have ever tested in my professional career.
JKG
Qualitek NC600-Sn100e wire solder is an incredible lead free silver free solder wire that outperforms, beyond any doubt, all other leading brands evaluated. Very well done Qualitek!
IPC Trainer
NC600-Sn100e wire solder has reduced my cost significantly! As a contract manufacturer, my customer is very pleased with the saving we were able to share by replacing SAC alloy with Qualiteks Sn100e!
CM
View Testimonials - Evaluate It Yourself!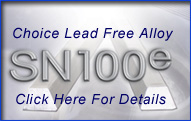 Qualitek Products
New! Bi58 Low Temp. Lead Free Soldering Kits
For Lead Free Heat Sensitive Assembly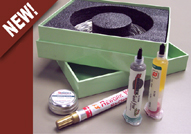 Qualiteks low temp. lead free soldering kits are a recommended lead free soldering alternative for heat sensitive assembly that requires a low melting point. The low melting point prevents thermal degradation of the heat sensitive components. Alloys exceed J-JTD-006 requirements and all other international standards. 500 gram box shown below. Also sold separately on-line at solderstoreonline.com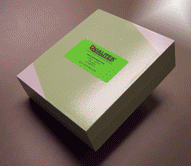 |Tech Data| |SDS|

Soldering Materials
• Solder Paste:
Lead Free Solder Paste, Leaded Solder Paste, No-Clean, Water-Soluble, RMA, RA
• Solder Powder:
Pure Spherical Low-Oxide Solder Powder
• Soldering Flux:
VOC Free Flux, Halogen 0 Flux, No-Clean, Water-Soluble, RA, RMA, Flux For Lead Free and Leaded Chemistries
• Bar & Wire:
Lead Free Wire Solder, Leaded Wire Solder, Solid Core Solder, No-Clean, Water-Soluble, RMA, RA Wire Solders, Leaded Bar Solder, Lead Free Bar Solder, Sn100e Bar Solder, Alloys
• Manufacturing Aids:
Peelable Solder Mask, Dross Eliminators, Wave Oil, Solder Iron Tip Tinner, Paste Flux, Flux Filled Rework Applicators
• Dross Reducing Agents:
For Solder Dross Recovery, Solder Dross Removal use Super Deox it won't deposit on your PC board assemblies like competitor brands! Recover up to 80% of your solder and save
• Wave Solder Oil:
2020 Water Soluble Wave Solder Oil
• BGA Spheres:
Solder Spheres for PBGA, CBGA, TBGA
• Paste Flux:
No Clean Paste Flux, Water Soluble, RMA, RA, Resin, Rosin Paste Flux for Leaded + Lead Free Assembly
• Lead Free Products
Lead Free Solder Paste, Lead Free Wire Solder, Lead Free Bar Solder, Lead Free Alloys, Lead Free Solder Powder, Fluxes for Lead Free Chemistries

soldering equipment
• Qualitek BGA Repair Stations

Qualitek Services
Conflict Minerals Policy
Tin suppliers of Qualitek International, Inc. used for manufacturing, alloying and distribution purposes are supplied from Conflict Mineral Free smelters according to the Dodd Frank Act Section 1502 and by the CFSI. These smelters are not located in the area of conflict nor any adjoining countries. Hence, all tin-containing products produced by Qualitek International, Inc. are considered conflict-free.

We provide a range of services that support our customers. These services provide added value to our products.
• Solder Check-up Program

• Solder Recycling Program Includes Silver Epoxy Scrap + Thermally Conductive Epoxy Scrap.
BUY LOCAL
Qualitek manufactures soldering materials for the U.S.A. market in the U.S.A.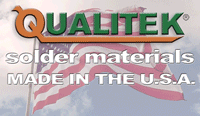 We are a proven manufacturer of innovative soldering products and lead free solutions. At Qualitek, our development is customer driven, so we focus on the products and services that you require. For your convenience, evaluation samples are available directly through this website.

solder paste game changer, halogen free solder paste, temperature stable solder paste